The consumers' requirements change with time in any business. Though it's a very challenging job, customer servicing can be made easier with the help of customer filling the questionnaire as it understands directly what the customers' requirements are. A questionnaire is a set of questions asked to the customers. These questions are mixed of both open and close ended with long answers and one-word response too. Preparation of questions is an important task which should talk about specific product or service related to the business. They are an accurate way to research and understand the requirements and demands of the customer. This work is efficiently done if we outsource questionnaires data entry services to an experienced and competent team.
Outsourcing helps a lot as the service provider always has an unbiased opinion regarding the company's product and services. So, the questions are prepared to keep all the features and qualities of the products or the service provided. Once the outsourcing questionnaires data entry services is finalized, it reaches out to a broader level of people. The feedback provided by the customers through the questionnaire is processed and analyzed for concrete results. A survey, when conducted for customers, comprises of a set of questions only. Hence, we can say it's a tool used to conduct the survey. It requires skill to create a questionnaire form as it is used to collect the best data available. Below are ten effective methods or tips used to create one survey form and distribute it.
1. Know what to ask
Each question is important for the survey as they provide insightful data. So, the correct method is to first understand what sort of data needs to be collected and then accordingly the questions are framed.
2. Short question forms
Customers generally avoid filling long questionnaire forms. So, the answers can be given in a reasonable amount of time. They should follow a streamlined order to avoid any sort of questions.
3. Have Clarity in questions
Poorly framed questions create confusion for the respondent and will be unhelpful at all for any analysis as the data could be misleading when collected basis confusing questions.
4. Avoid phrases like "and"
People who prepare forms for research questionnaires data entry services should avoid using phrases such as 'and'. The reason behind it is that with such phrases, the results could be misleading. As the customers' understanding is totally messed up the feedback given will be ungenuine.
5. Avoid biased questions
Some terms create bias in the customers' mind. Such words should be avoided in the questionnaire form.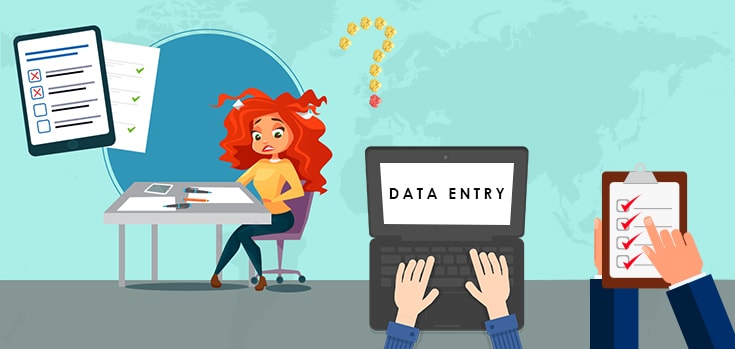 6. Customers' language
Every time use language which the customers understand. Words and sentences should be simple and easy to understand. Technical terms if used will be difficult to interpret by a commoner at all. A middle way should be evolved in case of such confusion.
For example, if you ask - What are the geographical conditions responsible for this calamity? Else it can be said – How did this calamity happen? The second question is more for a layman and easier to understand.
7. Do not use multiple response questions
Try avoiding such questions where you have multiple options as the response. Customers when in a hurry to fill the form usually choose the option without thinking which in turn will not give an accurate analysis. Such data entry will result in a faulty analysis.
8. Avoid direct answer question
Questions having single word answer as YES or NO should be avoided. Instead, rephrase the question with terms as HOW, WHY or WHEN. The data would have more substance when extracted from such questions.
9. Response Scale
Keep some scale to measure the intensity or depth of data rather than having straight forward questions with single word answers like yes/no or true/false.
Example – Does it rain in the month of July? The answer is YES or NO. The other way of asking the same question is What is the probability of rains in the month of July? High, low or No chance at all.
10. Test the Forms
Make a few people fill the questionnaire as a test and then finalize on it.
The above tips if implemented by survey questionnaires data entry services help them to collect data about their customers. This helps them to understand their target audience and plan marketing campaign and products in the future.
Recent Post